I think don´t need to you that  I admit that I come to be hugely enamored by 60´s garage music,  and I think You don't can  realize how much you can  love the garage  sound until you haven't heard it in Nuggets compilation, so it is only fitting that in some moment I would  post all this .
When  Patti Smith Group's Lenny Kaye  40 years ago coined the phrase "Nuggets" for the dirty lo-fi garage/psychedelic ditties recorded in the 60's latter half by one-chord wonders, surely don´t would imagine that it would be  arguably one of  most influential compilation in rock history.
Nuggets: Original artyfacts from the first psychedelic era 1965-1968. It is exactly as their  long title describes and it delivers nothing less, or more, than their title suggests.  This is a wild and wonderful collection of odds and ends (and forgotten radio favorites) from the era and which anyone who grew up grooving to Farfisa organs, fuzz  guitars, tambourines, harmonicas, jilted-relationship lyrics of love gone bad, and especially repeated riffs,   surely have this collection, or otherwise  must have it.
In fact, I was led  to posting  this collection by the recent release of Nuggets: Antipodean Interpolations of the First Psychedelic Era, which  is a newly recorded collection of young Australian groups pushing the boundaries of garage-rock with covers of the original songs.
A  new astounding examination of this amazing music that can  be  produced on  a precious place far from their origins.  Which   you to  has  below..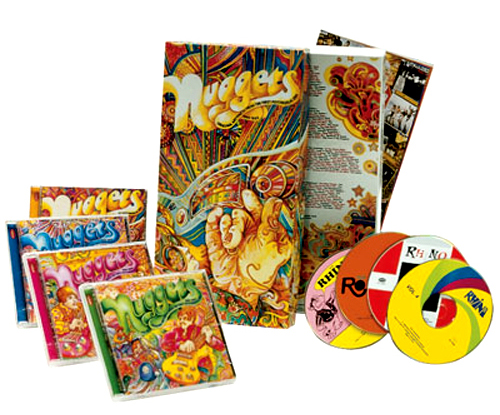 nuggets: original artyfacts from the first psychedelic era 1965-1968
Nuggets: Original Artyfacts from the First Psychedelic Era, 1965-1968
Nuggets II : Original Artyfacts From The British Empire & Beyond, 1964-1969
Children Of Nuggets : Original Artyfacts From The Second Psychedelic Era, 1976-1996
Love Is the Song We Sing: San Francisco Nuggets 1965-1970
.
vol 1 part 1
vol 1 part 2
1- The Electric Prunes: "I Had Too Much to Dream (Last Night)"
2- The Standells: "Dirty Water"
3- The Strangeloves: "Night Time"
4- The Knickerbockers: "Lies"
5- The Vagrants: "Respect"
6- Mouse: "A Public Execution"
7- The Blues Project: "No Time Like the Right Time"
8- The Shadows of Knight: "Oh Yeah"
9- The Seeds: "Pushin' Too Hard" // (youtube vid from a tv appearance in 1967)
10- The Barbarians: "Moulty" 11- The Remains: "Don't Look Back"
12- The Magicians: "An Invitation to Cry"
13- The Castaways: "Liar, Liar"
14- The 13th Floor Elevators: "You're Gonna Miss Me"
15- Count Five: "Psychotic Reaction"
16- The Leaves: "Hey Joe"
17- Michael and the Messengers: "Romeo & Juliet"
18- The Cryan' Shames: "Sugar and Spice"
19- The Amboy Dukes: "Baby Please Don't Go"
20- Blues Magoos: "Tobacco Road"
21- The Chocolate Watchband: "Let's Talk About Girls"
22- The Mojo Men: "Sit Down, I Think I Love You"
23- The Third Rail: "Run, Run, Run"
24- Sagittarius: "My World Fell Down"
25- Nazz: "Open My Eyes"
26- The Premiers: "Farmer John"
27- The Magic Mushrooms: "It's-a-Happening
"
vol 2 part 1
vol 2 part 2
1- The Music Machine: "Talk Talk"
2- The Del-Vetts: "Last Time Around"
3- The Human Beinz: "Nobody But Me"
4- Kenny & the Kasuals: "Journey to Tyme"
5- The Sparkles: "No Friend of Mine"
6- The Turtles: "Outside Chance"
7- The Litter: "Action Woman"
8- The Elastik Band: "Spazz"
9- The Chocolate Watchband: "Sweet Young Thing"
10- Strawberry Alarm Clock: "Incense and Peppermints"
11- The Brogues: "I Ain't No Miracle Worker"
12- Love: "7 and 7 Is"
13- The Outsiders: "Time Won't Let Me"
14- The Squires: "Going All the Way"
15- The Shadows of Knight: "I'm Gonna Make You Mine"
16- Kim Fowley: "The Trip"
17- The Seeds: "Can't Seem to Make You Mine"
18- The Remains: "Why Do I Cry"
19- The Beau Brummels: "Laugh, Laugh"
20- The Nightcrawlers: "The Little Black Egg"
21- The Gants: "I Wonder"
22- The Five Americans: "I See the Light"
23- The Woolies: "Who Do You Love"
24- Swingin' Medallions: "Double Shot (Of My Baby's Love)"
25- The Merry-Go-Round: "Live"
26- Paul Revere & the Raiders: "Steppin' Out"
27- Captain Beefheart & His Magic Band: "Diddy Wah Diddy"
28- The Sonics: "Strychnine"
29- Syndicate of Sound: "Little Girl"
30- Blues Magoos: "(We Ain't Got) Nothin' Yet"
31- Max Frost and the Troopers: "Shape of Things to Come
"
vol 3 part 1
vol 3 part 2
1- The Hombres: "Let It Out (Let It All Hang Out)"
2- The Golliwogs: "Fight Fire"
3- New Colony Six: "At the River's Edge"
4- The Daily Flash: "Jack of Diamonds"
5- Lyme & Cybelle: "Follow Me"
6- The Choir: "It's Cold Outside"
7- The Rare Breed: "Beg, Borrow and Steal"
8- Sir Douglas Quintet: "She's About a Mover"
9- The Music Explosion: "Little Bit o' Soul"
10- The "E" Types: "Put the Clock Back on the Wall"
11- The Palace Guard: "Falling Sugar"
12- The Gestures: "Run, Run, Run"
13- The Rationals: "I Need You"
14- The Humane Society: "Knock, Knock"
15- The Groupies: "Primitive"
16- The Sonics: "Psycho"
17- The Lyrics: "So What!!"
18- The Lollipop Shoppe: "You Must Be a Witch"
19- The Balloon Farm: "A Question of Temperature"
20- Mouse and the Traps: "Maid of Sugar – Maid of Spice"
21- The Uniques: "You Ain't Tuff"
22- The Standells: "Sometimes Good Guys Don't Wear White"
23- The Mojo Men: "She's My Baby"
24- Unrelated Segments: "Story of My Life"
25- The Third Bardo: "I'm Five Years Ahead of My Time"
26- We the People: "Mirror of Your Mind"
27- The Shadows of Knight: "Bad Little Woman"
28- The Music Machine: "Double Yellow Line"
29- The Human Expression: "Optical Sound"
30- The Amboy Dukes: "Journey to the Center of the Mind"
vol 4 part 1
vol 4 part 2
1- The Chocolate Watchband: "Are You Gonna Be There (At the Love-In)"
2- The Leaves: "Too Many People"
3- The Brigands: "(Would I Still Be) Her Big Man"
4- The Barbarians: "Are You a Boy or Are You a Girl"
5- Sam the Sham & the Pharaohs: "Wooly Bully"
6- The Strangeloves: "I Want Candy"
7- The Kingsmen: "Louie Louie"
8- The Knickerbockers: "One Track Mind"
9- The Wailers: "Out of Our Tree"
10- Harbinger Complex: "I Think I'm Down"
11- The Dovers: "What Am I Going to Do"
12- The Charlatans: "Codine"
13- The Mystery Trend: "Johnny Was a Good Boy"
14- Clefs of Lavender Hill: "Stop – Get a Ticket"
15- The Monks: "Complication"
16- The Sonics: "The Witch"
17- The Electric Prunes: "Get Me to the World on Time"
18- The Other Half: "Mr. Pharmacist"
19- Richard and the Young Lions: "Open Up Your Door"
20- Paul Revere & the Raiders: "Just Like Me"
21- We the People: "You Burn Me Up and Down"
22- The Lemon Drops: "I Live in the Springtime"
23- Fenwyck: "Mindrocker"
24- The Rumors: "Hold Me Now"
25- The Underdogs: "Love's Gone Bad"
26- The Standells: "Why Pick on Me"
27- The Zakary Thaks: "Bad Girl"
28- GONN: "Blackout of Gretely"
29- The Bees: "Voices Green and Purple"
30- Davie Allan & the Arrows: "Blues' Theme"

Various ‎– Nuggets: Antipodean Interpolations Of The First Psychedelic Era
Label:Warner Music Australia 
Format:CD, Compilation 
Country:Australia
Released:2012
Liner Notes – David Fricke, Lenny Kaye
Tracklist
1 Velociraptor – I Had Too Much To Dream Last Night
2 Pearls   – Dirty Water
3 Straight Arrows, The* – Lies
4 Tiny Migrants – A Public Execution
5 Living Eyes, The – Oh Yeah
6 Davey Lane – Moulty
7 Palms  – Don't Look Back
8 Eagle And The Worm – An Invitation To Cry
9 Step-Panther – Liar Liar
10 Laurels, The – You're Gonna Miss Me
11 Murlocs, The – Psychotic Reaction
12 Pond  – Hey Joe
13 Gooch Palms, The – Just Like Romeo And Juliet
14 Baptism Of Uzi – Baby Please Don't Go
15 Frowning Clouds, The – Let's Talk About Girls
16 Montero  – My World Fell Down
17 King Gizzard And The Lizard Wizard – Open My Eyes
18 Bloods  – Farmer John
Nuggets: Original Artyfacts from the First …
Audio CD
$48.73
$9.99
Genres: 

Alternative

, 

Music

Released: 23 November 2012
℗ 2012 WARNER MUSIC AUSTRALIA PTY LIMITED